Videos
Liar!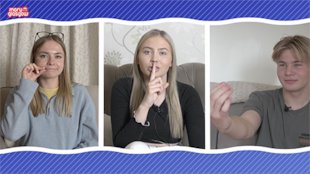 Three British teens talk about telling lies.
More videos
You are viewing videos at Current level (Advanced (C1) CAE).
Van Life!

Amélise gives us a tour of her van!

Festivals!

Two teens share their five top festival tips!

Going out? Staying in?

Two British teens talk about life after lockdown, including socialising, masks and the COVID vaccine.

Disorganised?

CURRENT asks three British teens if they are disorganised! Note: There is a problem with the sound for one of the speakers. If you struggle to hear her answers, use the transcript below.

Teens and the vaccine

How do teens feel about the Covid-19 vaccine? Are they nervous? Will they take it? And what's the first thing they'll do when they are vaccinated?

Student life in a pandemic

Streaming and me

Two teens talk about their streaming habits.

Claudia's Zoom Tips!

In this issue of Current, we learn about Zoom. Watch the video to learn Claudia's top tips for video-calling!

Learning at home ... in lockdown

Four teens from the UK tell us about how they are learning during the lockdown.