Website access for your 11-18 year old students
Student access to this site is included, for free, with a subscription to our print magazines.
Buy only one magazine subscription and you will receive a code that all your students can use to register (plus, five issues of the magazine).
To make sure your students access the website at the right level, choose the right magazine to subscribe to:
What's on the website?
Using Chatter, students can chat in English with:
their classmates
other Mary Glasgow students from around the world
the English Coach (a native-speaker English teacher)
Chatting online in English is a great way for your students to:
practice their conversation
learn to think quickly in English
pick up new vocabulary
have fun with English!
As well as chatting, students can:
send 'friend requests'
comment on news articles
send their own stories for the student news page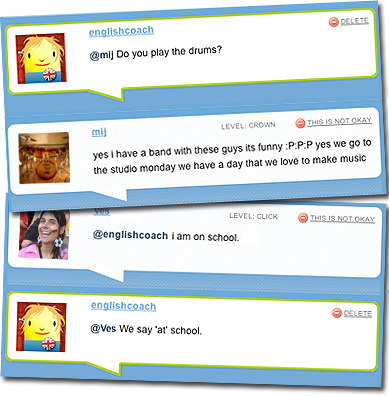 What's in the magazines?
16 dynamic pages in full colour
high quality teen-focused and photo-driven content
separate teacher's notes with fully-comprehensive lesson plans and extra worksheets