Click
Level:

Beginners

Syllabus:

A1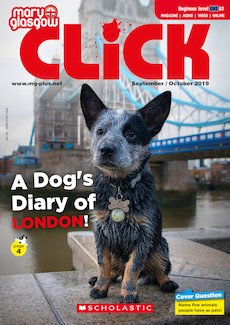 Look inside!
A fun and accessible introduction to English that will excite and engage beginners of all abilities and interests!
Vibrant and visual magazines packed with short articles, comic strips, puzzles, quizzes, videos, interviews and songs.
Subscriptions include:
5×16 page magazines per year
20

MP3

audio tracks online – with songs and cartoons
5 original videos, 5 interactive activities in the Language Lab
Unlimited website access
Teacher's Extras:
Teacher's note and lesson plans with every issue
Audio materials available on 2 CDs and online, with transcripts and listening activities
Access to over 14, 000 additional teaching resources in our online archive
Teacher's notes and transcripts
Samples
Website access
Every subscription comes with unlimited access to our website, including our teacher's resource archive and live language Chatter for students!
Click here to take a tour of what your students can do on our website!
Alternatively you can get unlimited website access with an online-only subscription for just £20 per year!