¿Qué Tal?
Level:

Beginners

Syllabus:

A1
KS3/P7-S1 Yrs 7-8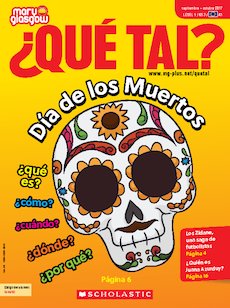 Look inside!
A fun and accessible introduction to Spanish that will excite and engage beginners of all abilities and interests!
Vibrant and visual magazines packed with short articles, comic strips, puzzles, quizzes, videos, interviews and songs.
See 2017-18 Editorial Calendar for more.
Subscriptions include:
5×16 page magazines per year
25

MP3

audio tracks
5 'real-life' videos, 40 online activities and unlimited website access
Teacher's Extras:
Teacher's Notes and lesson plans with every issue
Audio materials available on 2 CDs
Access to over 5000 additional teaching resources in our online archive