El Sol
Level:

Intermediate/advanced

Syllabus:

B1/B2
UK: Years 11–13, Key Stage 4–5/GCSE–A-Level/S3–4 | Republic of Ireland: Fifth-Sixth Year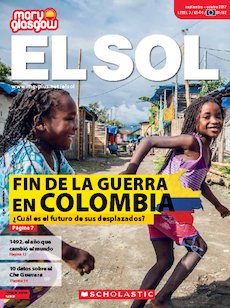 Look inside!
Deepens cultural understanding and helps students to improve accuracy and fluency in Spanish.
Stimulates discussion, boosts vocabulary and motivates students to practise and reinforce their skills ready for assessment.
Regular features include: Sobremesa – 3 teens discuss their lives in Buenos Aires and Siglo

XXI

– comprehensive infographics to develop 21st Century skills!
See 2017-18 Editorial Calendar for more.
Subscriptions include:
5×16 page magazines per year
25

MP3

audio tracks
5 'real-life' videos, 40 online activities and unlimited website access
Teacher's Extras:
Teacher's Notes and lesson plans with every issue
Audio materials available on 2 CDs
Access to over 5000 additional teaching resources in our online archive