Chez Nous
Level:

Advanced

Syllabus:

B1/B2
UK: Years 12–13, Key Stage 5/A-Level/S5–6 Highers| Republic of Ireland: Fifth-Sixth Year/Leaving Certificate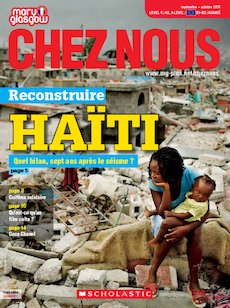 Look inside!
Advances students to near-native level of French.
Encourages debate and develops vocabulary, grammar, idioms and fluency using a wide range of challenging texts on the latest cultural issues from the Francophone world.
See 2017-18 Editorial Calendar for more.
Subscriptions include:
5×16 page magazines per year
25

MP3

audio tracks
5 'real-life' videos, 40 online activities and unlimited website access

UK REVISION EXTRA

: Each issue comes with a 4-page A Level revision booklet full of exam-style activities written by chief

AQA

examiners.
Teacher's Extras:
Teacher's Notes and lesson plans with every issue
Audio materials available on 2 CDs
Access to over 5000 additional teaching resources in our online archive