Take Away My Takeaway: Texas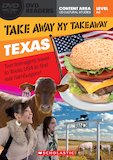 Hayley and Lauren love hamburgers but how much do they know about their favourite takeaway? TV show Take Away My Takeaway sends the girls to Texas in the USA to find out more. With the help of cattle rancher Nick Cole, they learn how to buy, feed and look after the cows on his ranch. Will the girls ever want to eat hamburgers again? And can they learn to cook the perfect Texan burger in just three days?
© DCD Media plc. All Rights Reserved.
ISBN: 9781908351739 (NTSC)
ISBN: 9781908351029 (PAL)
Buy this book from a local agent in your country.
Search for your local agent
Sample video
Free Resources